And the Envelope Please…
Celebrating Vi's Heart of Vi Award Winners
Vi's Service Recognition Program has been engaging employees and residents in recognizing exceptional performance. The recognition pillars of customer service, quality and efficiency, teamwork and leadership exemplify Vi's core values of respect, integrity, compassion and excellence. Over the last year, we have received hundreds of nominations from employees and residents alike.
---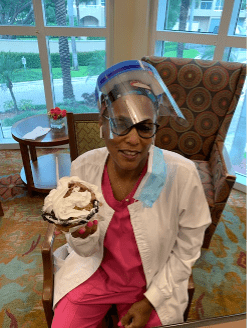 Ghislaine Bazin, Lead LPN/LVN

As a dedicated Aventura LPN for over ten years, Ghislaine or "Gigi" is an outstanding reflection of Vi's core values of respect, integrity, compassion and excellence. Ghislaine is a compassionate leader and has received many accolades from residents, their family members and her fellow team members. She has a quiet, gentle grace about her and always anticipates resident needs above anything else. Gigi can always be relied on to give a comforting warm smile and a willing ear to listen. She plays an integral role in maintaining the Aventura Care Center's five-star rating.
---

Jesus Garcia, Lead Server

Jesus joined the Bentley Village team in 2005. He is a wonderful server in the Bentley Village Bistro and always assists with additional duties without hesitation. During a recent two-day photo shoot at the community, he went above and beyond to ensure all food and beverage needs were met, drove the crew across campus, helped set up and kept everyone hydrated. Jesus was readily available from the moment the photography crew arrived until they wrapped up. He deserves to be celebrated for his hard work.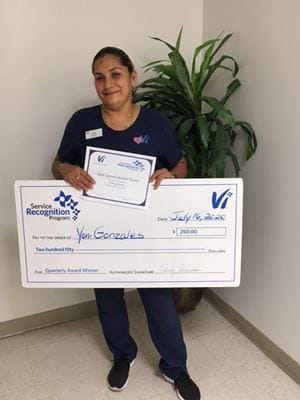 Yoni Gonzalez, Floor Technician

Yoni just celebrated her fourteen-year anniversary with Vi at Bentley Village. She is a valued member of the Housekeeping team. Recently, while riding in her golf cart, she noticed a runaway dog. The dog belonged to a resident who was not physically able to run after him. Without hesitation, Yoni parked the golf cart, successfully caught the dog, put him on a leash and returned him to the resident. The resident (and everyone else at the community) is forever grateful for Yoni's generosity and kindness.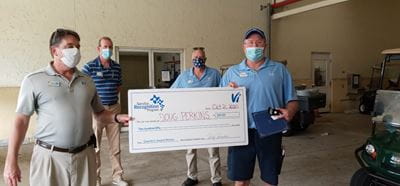 Doug Perkins, Maintenance Technician

Doug has been a valued member of the Bentley Village Maintenance team for eleven years. During a recent two-day photo shoot at the community, he went above and beyond the scope of his daily duties to ensure that all maintenance needs were met. Doug was readily available to troubleshoot and helped with electrical needs, logistics and many other tasks. He is a Vi hero!
---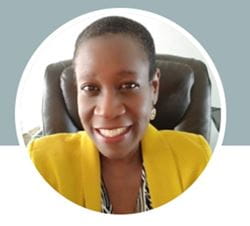 Carol Shaw-Burns, Corporate Director Resident Services

Carol has worked for the corporate office Resident Care team for five years. This past year was an extremely challenging one, and she played an integral role in supporting both her corporate office and field colleagues. Carol received three separate service recognition nominations throughout 2020. Along with her normal day-to-day responsibilities, she assisted the HR team with nurse recruitment efforts, assisted with the COVID-19 community testing initiative and was the "mass test tracking guru." Carol kept a close eye on testing dates, community test venues and population test results while also following up with communities to retrieve missing information as needed. During the midst of the pandemic, Carol also hosted and facilitated multiple virtual lunch-and-learn sessions to help her fellow colleagues vent in a safe environment about the pandemic challenges as well as the ongoing social unrest. Thank you, Carol! You truly "do it all"!
---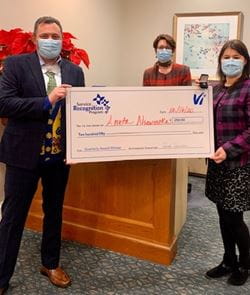 Aneta Niewinska, Sales Assistant

Aneta joined the Vi at The Glen Sales team in 2011. During the start of the pandemic, the team was not able to perform their usual duties and had to think outside the box. Aneta took the lead and collaborated with different departments to spearhead a new grocery-shopping program for residents. She worked tirelessly, developing the grocery list, tabulating the orders, picking up the food from the kitchen and fielding calls from residents when the orders were incorrect. Aneta also created a beautiful monthly newsletter to email to prospective residents. The newsletter highlighted how residents are still finding joy despite living through a pandemic. When the Sales department had to look for alternative ways to reach prospects, Aneta researched different facets of communication and learned how to distribute email blasts via different platforms. The team was then able to continue reaching out to prospects and even achieved move-ins each month. Aneta is a hardworking yet humble colleague, and the community is extremely lucky to have her.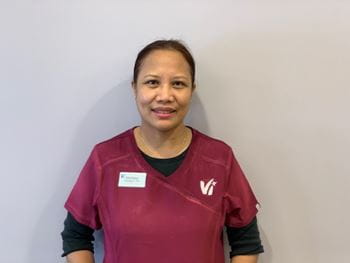 Marissa Salvaleon, RN

Marissa has worked as a registered nurse at Vi at The Glen since 2017. She is known for her calm, caring demeanor and displays a genuine interest in the residents' daily lives. As a member of the Skilled Nursing team, she provides comfort and solace to residents while also educating them about how to thrive when they are well enough to return to their home in IL or AL. Marissa has received multiple accolades expressing gratitude and thanks for the special care she has given. In early March 2020, Marissa was approached to work in the COVID-19 unit at the community. Despite the unknowns and concerns of her fellow colleagues, Marissa dove right in without hesitation. She not only agreed to work there when the unit first opened but has continued to work tirelessly for the past 10-plus months the unit has been open. Marissa has displayed what it is to lead by example.
---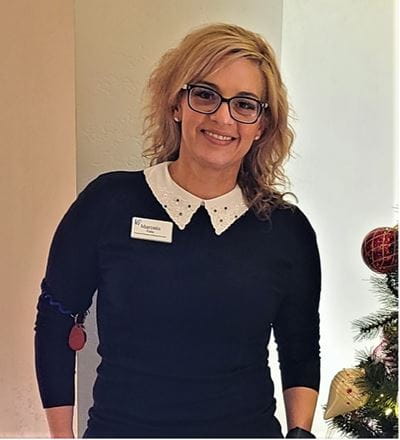 Marcela Felix, Assistant Director of Dining Services

Marcela joined the Vi at Grayhawk team sixteen years ago. During this past year, she has proven to be a very adaptable and capable manager during rapidly changing circumstances. At the beginning of the COVID-19 pandemic, her valuable input about switching to the delivery of three meals per day was invaluable. Marcela's insight into processes and resident needs allowed team members to create a very efficient assembly line, menu format and delivery procedure within a week. She has taken the lead in ensuring the safety of the Dining team through social distancing measures, ensuring that PPE standards and sanitation are a priority for all. She has also assisted with the inventory and maintaining of a steady supply of disposable packaging and bottled beverages for to-go orders. Marcela prioritizes the needs of residents and is always trying to find ways to assist them with dietary issues and special requests. She is an asset with ensuring meal quality, portion control and presentation are maintained, even though we are providing meals in disposables. Marcela has assisted with menu creation and payroll for the Culinary team and utilizes her knowledge of both staff and residents to ensure the satisfaction of both. Her positive energy motivates the Dining and Culinary team, and she is always coming up with ways to engage the residents with "waves," added "goodies" in meal bags or birthday gifts. Marcela is a true example of leadership and motivation to all.
---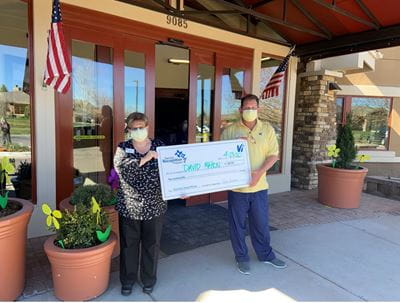 David Mahon, Staffing Coordinator

David has been a member of the Vi at Highlands Ranch family for over seven years. Throughout the COVID-19 pandemic, he has taken on a multitude of challenges with a positive, "roll up our sleeves" attitude. David worked tirelessly to identify team members who could fill in the schedule gaps due to open positions and/or COVID. He was able to obtain PRN staff members to pick up full-time hours. David also collaborated with staffing agencies to obtain extra health care workers to provide relief. Once the plastic sheeting started to go up for the Highlands Ranch COVID-19 unit, David jumped right in by contacting vendors to procure the necessary supplies and PPE for the unit, including a medication cart, suction machines and oxygen concentrators. He also maintained inventory of PPE and medical supplies. David works collaboratively across all departments and has helped maintain a sense of calm by providing reassurance and a listening ear for the residents and his colleagues.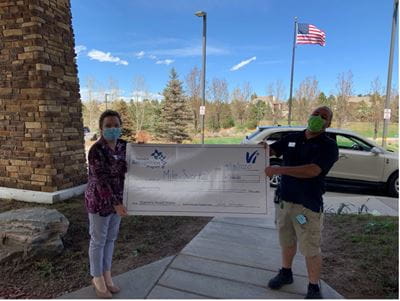 Mike Swartz, Lead Valet

Mike joined the Vi at Highlands Ranch team in 2019. During his time as a lead valet, he has provided outstanding leadership and customer service. Mike is great ambassador of Vi's core values. During the COVID-19 pandemic, Mike went above and beyond his day-to-day responsibilities to assist with resident car drop-off and pick-up, package delivery, mail service, delivering meals and writing/performing songs for residents. He always has a smile on his face, a cheerful attitude and a kind word for everyone. Mike has been a beacon of positivity and light during dark times. His "can-do" attitude is infectious, and one cannot help but try harder to be their best self after an encounter with Mike.
---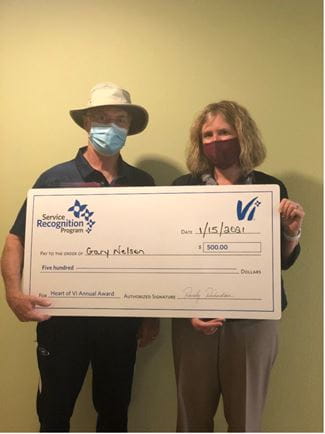 Gary Nelson, Driver

During his five-year tenure at Vi at Lakeside Village, Gary has always demonstrated admirable leadership qualities. He has gone above and beyond during this challenging year by not only driving, but also screening and assisting in the fitness center so that the gym and pool could be kept open to residents. Gary kept track of the reservations for the fitness center and pool in addition to cleaning the equipment and pool area after each use. The residents look forward to exercising in the gym because of Gary. They are complimentary of the way he assists with their fitness regimes, as well as his fun, outgoing personality. Gary has proven that a smile can make all the difference. He greets everyone by name and welcomes them to the community. Thank you for your kindness and light, Gary.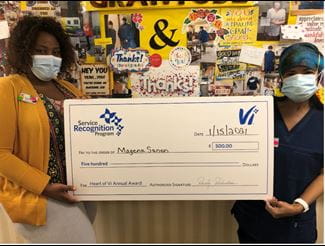 Magena Sanon, RN

Throughout her fourteen years at Vi at Lakeside Village, Magena has ensured both that the residents are safe and taken care of and that operations in the Care Center meet all regulatory standards. She demonstrates respect, compassion, excellence and integrity daily. Recently, Magena temporarily filled in for the ADON role, and she took on the role and extra responsibilities flawlessly. She is a true asset and a team player.
---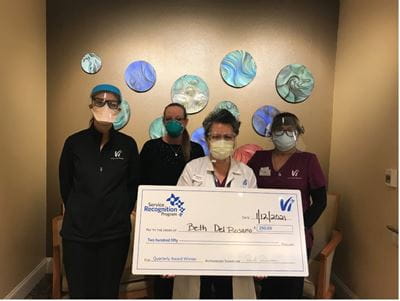 Beth Del Rosario, LPN/LVN

Beth has been a wonderful asset to the Vi at La Jolla Village Wellness team for almost fourteen years. During the COVID-19 pandemic, she not only assisted with testing clinics, but also took on several additional shifts and responsibilities. She provided compassion and support to residents in numerous ways during a challenging year. Beth is a caring, compassionate and highly skilled nurse. As a true team player, she embodies empathy and always lends a helping hand to all.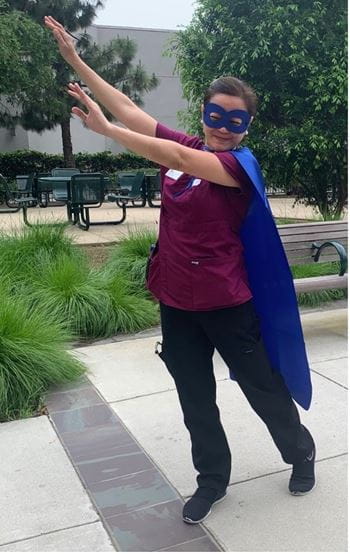 Claudette Sergio, RN

Even though Claudette has only been at Vi at La Jolla Village since 2019, she has accomplished a lot in short time. When she won the community's first-quarter service recognition award, she was an LVN. Since then, she has graduated with her RN and has continued to impress residents and colleagues with her positive attitude and compassion. Claudette always acts in the best interest of others and has impeccable communication skills, is humble and demonstrates genuine care for people.
---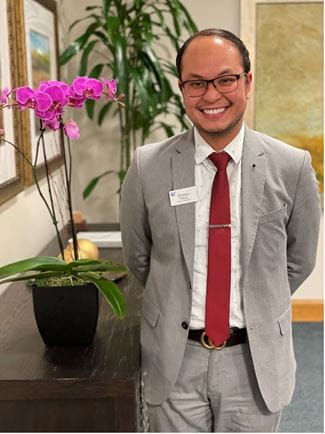 Enrico Galvez, Sales Counselor

Enrico joined the Vi at Palo Alto Sales team in 2008. During the COVID-19 pandemic, he took on many additional responsibilities. Enrico worked as the solo sales counselor for four months while the director of sales role was vacant. He handled all sales closings and securing of deposits and obtained qualification information for new residents. Enrico successfully ended 2020 with 23 of our 29 closings during a pandemic. In addition, he is a pleasure to work with and is always willing to provide additional assistance. Enrico is great with the residents and sales prospects, and he is always a willing participant in community activities and events.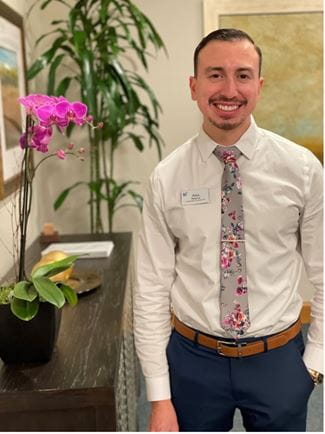 Alex Magana, Admissions Coordinator

Alex joined the Vi at Palo Alto team just over a year ago. He is a flexible, adaptable team member and supports all departments in the Care Center. Alex displays enthusiasm to help his colleagues and always goes above and beyond his assigned duties. Throughout the COVID-19 pandemic, he has played a major role with tracking the community testing and vaccinations for over 100 Care Center team members. Alex also assists with coding invoices and helps with technology challenges. He always maintains a positive attitude, and his ambition is an asset to the community.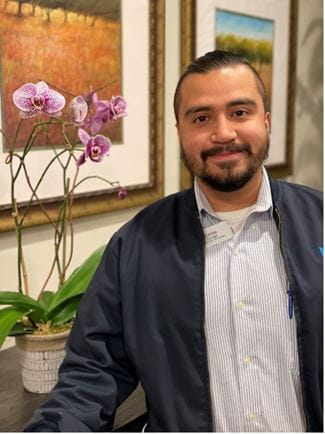 Ernie Zuniga, Maintenance Technician

After almost nine years at Vi at Palo Alto, Ernie took on a vital role in the Engineering department: running the apartment turnover program for new resident move-ins. In addition to the usual hands-on work expected in this role, he is also responsible for the scheduling and oversight of the outside contractors needed, including painters, carpet installers and our window treatment vendor. Ernie also orders the appliances and finishing materials. He collaborates with the Housekeeping and Sales teams while attending weekly Sales team meetings. Ernie's growth this past year has been positively astonishing. Not only has his technical ability grown by leaps and bounds, he is also learning logistics and coordination skills, vendor relations and time management. He has impressed all with his desire to learn and his enthusiasm in his new role. Despite the obstacles presented by the COVID-19 pandemic, apartment turnovers have been running full throttle, and the maintenance team has been busier than ever with apartments being returned and new commencements. Ernie's work has been a key ingredient to meeting this challenge, and he does it all with a fantastic attitude and a smile on his face.
---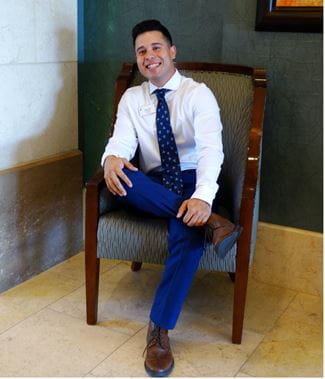 David Lopez Castillo, Lead Server

David joined the Vi at Silverstone dining services team in 2014 and is truly exceptional in every way. Year in and year out, he has shown extraordinary attention to detail. David rocks his competencies as lead server with an upbeat stride and an infectious smile. He is always challenging himself and others to excel. He takes on responsibilities without being told, simply observing and recognizing opportunities and performing however he can to make the day as happy and easy as possible for his colleagues and residents. David never looks at mistakes as a defect in himself or anyone else, but rather as another opportunity to learn, overcome and be stronger. He is currently enrolled as a full-time student at Grand Canyon University, pursuing his bachelor's degree in biochemistry and microbiology. In addition, he is a math tutor, a summer youth camp counselor, a resident scholarship recipient and a member of Silverstone's Management Development Program.
---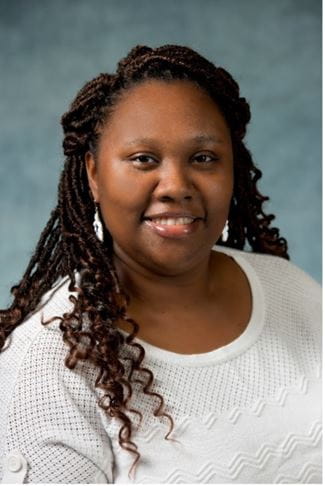 Atoya Taylor-Brey, RN

Atoya has been a highly valued registered nurse at TidePointe for over ten years. She received a written nomination from a resident after working several night shifts prior to his wife's death. According to the resident, Atoya "is clearly called to and has a special gift for her profession as a nurse. From the moment she walked into the room, she treated my wife and I and all family members with the kind generosity and care that cannot be paid for. She gave me a big hug as her shift started. She told me, 'You and I are going to do this'—meaning support my wife through her death—'together.' And we did. While I focused on being by my wife's side and making sure she knew how much I loved her, Atoya focused on keeping her comfortable during her last hours on this earth." Atoya continued to monitor the resident's wife closely and ensured she was not in discomfort or pain. She checked up on how family members were doing and addressed any questions or concerns. "She bathed, massaged and powdered my wife's body. She put on her favorite gown even though it would have been easier to put my wife in a hospital gown. I believe this last act of kindness allowed my wife to pass in the dignified manner that she would have wanted."