Race, gender, sexual orientation, and disability are just a few of the identities that face systematic oppression, which can affect life outcomes. Systematic oppression is not a unique problem that only one organization faces, but rather, a problem woven into the fabric of society.
This plan ensures that our policies and practices do not contribute to inequality or affect the wellbeing of Vi's staff. We know that in the workplace, the negative impacts and outcomes of systemic oppression can be severe, from recruitment barriers to poor career mobility these barriers are everywhere. And it is ultimately up to each organization and individual to address inequity intentionally.
At Vi, we are aware of these social, structural, and institutional barriers that prevent this from being possible for employees both in the workplace and in the world they navigate. As leaders in our industry, we recognize both the opportunity and responsibility we have to advance diversity, equity and inclusion in the workplace. Our ambition is to drive measurable, actionable, and meaningful change in these areas by being strategic in our work.
Goal 1: Mission, Values, and Culture
Goal 1: Mission, Values and Culture
We are at a pivotal time in our organization's REDI journey, and by that, we mean the very beginning!
Culture is the combination of those shared values, norms, and beliefs. The accumulation of experiences, beliefs, attitudes, behaviors, values, and knowledge of a group of people is combined to determine the culture of a place. The culture here at Vi is known for compassion, integrity, excellence, and respect.
However, our efforts to address racial inequity within our organization must be incorporated into our organization's everyday functions, core activities, and overall culture. While racial equity is a core part of our organizational mission, we define our success based on having equitable outcomes across all underrepresented identities.
Underrepresented people at all levels of our organization should feel fully included, respected, represented, and valued. Our goal for examining culture at Vi is to ensure our culture is healthy for all employees, while identifying where our incongruencies lie, determining what effect it may be having, and ensuring representation is seen throughout our company.
Goal 2: Recruitment
Diverse teams support innovative, creative, and successful businesses. Our recruiting efforts aim to find the best possible candidate but give all applicants equal opportunity.
Unfortunately, unconscious bias has historically played a role in screening applicants, leading to the removal, or barring of marginalized communities from positions regardless of education, experience, or competency. To remove unconscious bias from our hiring and recruitment practices, we are intentionally looking at our candidate pools and hiring processes to ensure success.
Our goal is to improve candidate pipeline diversity, review our vendors and recruitment policies, and train our recruiters on unconscious and confirmation bias to improve diversity hiring in key areas and departments. In collaboration with the REDI team, Human Resources has already begun the process of diversifying the candidate pipeline by partnering with Job Corps, Circa Jobs, MyGwork, the Hire Black Initiative, and HAMILTON-RYKER to support the transition of veterans.
Goal 3: Retention
Only focusing on hiring underrepresented talent fails to account for the retention of underrepresented talent.
Retention is an important metric to gauge how inclusive and equitable our organization is for employees. Diversity is about objective, measurable numbers and equitable outcomes. Retention metrics help us ensure each person receives access to opportunities, information, and resources that will help them grow and thrive at Vi.
Our goal for company-wide initiatives and processes — i.e., onboarding, employee recognition, promotions, etc.— is to remain equitable while providing employees with an equitable and inclusive experience, regardless of their identity.
Employee retention is a multi-purpose strategy that serves the company in fulfilling both short-term and long-term goals. It saves the company thousands of dollars in turnover payments and keeps precious working hours recruiting and training new employees. In addition, it is a relatively easy way to ensure that the company is heading in the right direction, as the employees are motivated and dedicated to giving their best.
This is no different for measuring DE&I; if employees feel motivated and supported, it is a direct link to accessing the impact of the overall success of our efforts.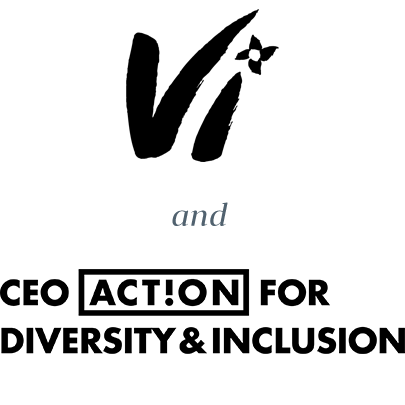 CEO Action for Diversity & Inclusion™
Vi has signed on to the CEO Action for Diversity & Inclusion™, which aims to rally the business community to advance diversity and inclusion within the workplace.
The CEO pledge outlines a specific set of actions the signatory CEOs will take to cultivate a trusting environment where all ideas are welcomed, and employees feel comfortable and empowered to have discussions about diversity and inclusion.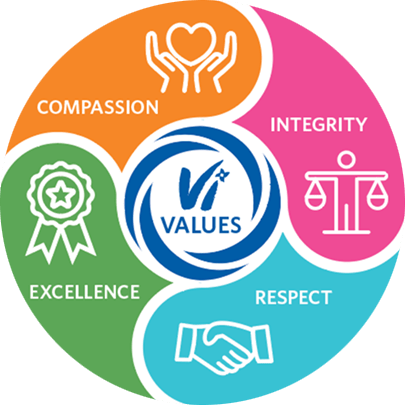 We believe that diverse perspectives, experiences, and backgrounds are essential keys to our success, making us a strong and effective organization for our residents and employees alike.
We are unified by our guiding principles of respect, integrity, compassion, and excellence.
We are fast-paced, entrepreneurial, collaborative, and high-performing. We are also warm and familial, focused on delivering healthy, engaging, and life-enriching experiences for our residents and employees.
Vi signs on to CEO Action For Diversity & Inclusion Commitment™
In January 2021, Vi CEO Randy Richardson signed on to the CEO Action for Diversity & Inclusion™ commitment. Recognizing that change starts at the executive level, Richardson joined over 1,600 CEOs of the world's leading companies and business organizations in leveraging their individual and collective voices to advance diversity and inclusion in the workplace.