Our Company
---
Vi is dedicated to providing quality environments, services, and programs to enrich the lives of older adults. Our goal is for our residents to continually experience the finest in senior living.
In 2010, Classic Residence officially rebranded as Vi (pronounced "vee"), derived from "vida," the Latin word for "life." Since then, Vi has grown to 10 vibrant communities across the United States, and today more than 4,000 seniors proudly call Vi home.
Throughout Vi's history, we have maintained our commitment to not only help seniors live independent lives on their terms, but also provide a nurturing environment for our employees to build fulfilling careers of service and care.
Today, we support more than 2,900 employees in our corporate and community offices who are deeply committed to the care of our residents. The future success of Vi depends on maintaining a standard of excellence in all phases of resident services and relations.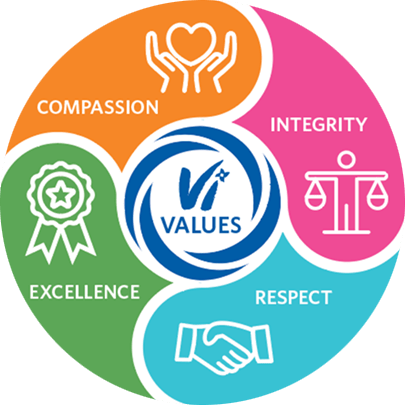 Our Values
We are unified by our guiding principles of respect, integrity, compassion, and excellence.
As leaders in our industry, we also recognize the opportunity and responsibility we have to advance diversity, equity and inclusion in the workplace. Our ambition is to drive measurable, actionable, and meaningful change in these areas by being strategic in our work.
We believe that diverse perspectives, experiences, and backgrounds are essential keys to our success, making us a strong and effective organization for our residents and employees alike.
Glad to be connected!
There's a lot to consider when embarking on the next phase of retirement—and contacting us is a big step. (Well done!)

We'll be in touch soon to share expert insights and resident perspectives that we hope are helpful, and one of our team members will also be reaching out to answer any questions you may have.