LIVING WELL PERSPECTIVES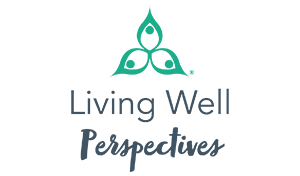 In this edition of "Living Well Perspectives," I had the opportunity to connect with Ms. Marilyne Dogole, resident of Vi at Lakeside Village, in Lantana, Florida. Marilyne talks about how she stays mentally fit by using many of the online programs and learning resources made available to her by the community's Lifestyle team. She appreciates having the flexibility to engage in as many of the virtual programs as she desires, at her convenience. She loves the freedom of being "unscheduled."

Marilyne uses the term "engageable" to describe the spirit of the community, which she feels makes it easy and seamless to stay involved. Marilyne also keeps up with her fitness by walking outdoors and participating in the yoga classes shown on the community's in-house TV channel.

I hope you enjoy it!

Tony Galvan
Assistant Vice President of Living Well

Check out the episode below:
SERVANT LEADERSHIP DURING THE PANDEMIC
Darrell Baltimore, Vice President, Operations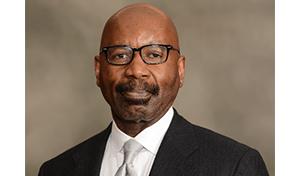 Darrell Baltimore is a natural leader, one whose skills have been honed in the field. His leadership training began when he joined the army at 17. A finance specialist in the 82nd Airborne Division, he later went to the College of Charleston in South Carolina on the GI Bill and worked in high-end restaurants at night.

He worked his way up to leadership positions in different areas of the hospitality industry, including hotels and corporate dining, and ultimately senior living. "Those different roles, and leading different types of teams, helped me end up where I am today," he said.

Baltimore began his career at Vi eight years ago as an executive director in one of the company's former rental communities in Dallas, Texas. He was promoted to vice president of Operations in October 2019. In his current role, Darrell works directly with the executive directors and leaders in Vi's various communities to ensure operational efficiency and compliance on all regulatory guidelines, as well as fiscal responsibility and profitability.

It helps that he's done some or all of the work that his direct reports do. This enables him to make better decisions and solve problems more effectively. But for Baltimore, leadership is more than decision-making or strategic planning. It means being a servant to those who report to him, as they serve the residents and other employees.

Servant leadership means listening to others' concerns, responding by providing what they need and removing any barriers that prevent them from achieving their goals. "I also think as a leader, my role is to reinforce, reassure, explain, encourage and reward," Darrell said.

Now with 13 direct reports, Baltimore has successfully applied all of the leadership lessons he's acquired over the years to great effect during the pandemic. He described his job as a moving target most days, but by being proactive and collaborating with community leaders, "we have been able to do a great job taking care of our residents and staff, and dealing with the uncertainties of COVID-19."

Baltimore has had some formal education in the field, and Vi helped him earn a master's degree in long-term care, senior living aging services, from the University of North Texas. The company also subsidized his nursing home administrator licenses in several states. But most of his leadership training happened on the job, as he observed other leaders.

"Very strong leaders model the appropriate behavior and actually listen," he explained. "Great leaders are collaborative. They take the jacket and the tie off and roll their sleeves up, go to that person washing dishes and say, 'Hey. What is the best way for us to support you?'"

Baltimore said he's also learned from bad leaders. Those leaders don't really have employees' trust, and they're rarely seen because decisions come from the top down; there is no bottom-up discussion.

"As a leader there are three things that are very important," he said. "Empowerment, trust and respect. That goes a long way, and since we all have shared values, we all do better. We're all on the same page, reading from the same sheet of music."
FEEDING THE MIND, BODY, AND SPIRIT: Vi'S CULINARY AND DINING SERVICE PROFESSIONALS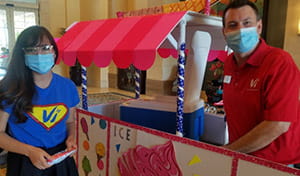 Vi's community Culinary and Dining Service professionals continue to pull out all the stops to use food to entertain, bring comfort to, and nourish each resident's mind, body and spirit during the pandemic. We are pleased to share a small snapshot of the creativity demonstrated by our community team members.
Vi at Silverstone: Ice Cream and Memories
Jeff Weston, executive chef for Vi at Silverstone, continuously looks for ways to connect with residents, such as incorporating their requests and favorites into the menus or emphasizing comfort foods versus fine dining fare. One of Weston's favorite events involved converting a pushcart into a mini ice cream truck, cranking up the ice cream truck jingle and going around the community to hand out ice cream novelties. The response was phenomenal. "You could see that the music, the cart and the surprise really took them back to a happier place in childhood when we weren't dealing with all of the chaos in the world," he said.
TidePointe: The Party Doesn't Stop
Celebrations are common at Vi, and COVID-19 hasn't stopped many of the traditions residents are used to — they've simply adapted. Kevin Meredith, the community's director of Dining Services, has a passion for wine and has turned his wine-centric events with food-appropriate pairings into virtual "Wine Down Wednesdays" and other themed celebrations to mark certain dates like Earth Day.
He's also still carrying on the traditional birthday meal for all residents born in a particular month and their significant other or friend. The community's executive chef prepares a three-course lunch à la minute, with a five-touch dessert and an aperitif, champagne or sparkling wine to uplift residents' spirits and accompany an elegant toast to their lives and many happy, healthy years to come. "It's tough to accommodate everyone in a timely fashion with the number of individuals who live at the property," Meredith said. "My seating capacity is diminished with physically distanced dining, but we make it happen, and the residents seem to really truly appreciate it."
Vi at La Jolla: Maintaining a High Standard
Maintaining food quality during a pandemic isn't easy. "Many restaurants closed down, so a lot of food companies stopped delivering," said Gonzalo Vasquez, executive chef for Vi at La Jolla Village. "A lot of product wasn't moved on time, so fish and produce quality was decreasing." Food shortages and irregular delivery schedules prompted him to leverage four to five different vendors to ensure the community's residents don't notice a change in the high-quality culinary experiences they're accustomed to.
Residents have expectations, Vazquez explained, and his team is not about to let them down. Waitstaff deliver some 1,000 meals each day, and Vasquez polls residents weekly to gauge their level of satisfaction and note any requests or suggestions they may have. Then he makes adjustments, ensuring that menus have more variety and that residents have access to quality meat and fish at home when they want to cook for themselves. Said Vazquez: "I've been very lucky to have a committed group of culinary professionals working for me and a very flexible group of residents who are very thankful and appreciate what we do for them."
Vi at Bentley Village: All the Comforts of Home
Shep Drinkwater, the food and beverage director for Vi at Bentley Village, describes himself as his crew's cheerleader. These days, one of his favorite things to brag about is the number of accolades his waitstaff gets. "Our only touchpoint with our residents during the pandemic is the food we deliver each day," he said. "Even after three months they're still talking about how nice the staff is, and saying things like, 'I just had the best meal of my life.' We have a lot of fun trying to keep them nutritionally well."
The community even has something called The Bentley Bulge, which Drinkwater says residents tease him for. But he's determined that no one will be hungry on his watch. It sounds impossible with a pastry chef on site; full-scale celebratory menus like BBQ for the Fourth of July with in-house smoked ribs and all the trimmings; seafood buffets with crab, lobster tail and fish from all over the world; and birthday cakes delivered along with a balcony-side staff serenade. "We try to have a very enticing menu that changes daily, so they don't have to get bored with the food whatsoever."
CELEBRATING Vi MILESTONE ANNIVERSARIES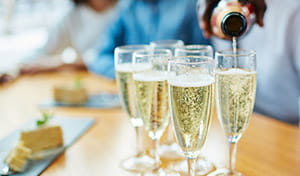 We are extremely grateful for our long-tenured and dedicated team members! The average length of service at Vi is over six years, and more than 30% of Vi full- and part-time employees have 10 or more years of service with the Company.
We are pleased to recognize our colleagues celebrating 20 or more years of service in Q3. Please join us in celebrating these milestone accomplishments!
20 Years of Service
Corporate Office
| | |
| --- | --- |
| Ann Marie Burns | September 11 |
| La'Keba Garcia | August 16 |
| Linda Giardini | July 24 |
Vi at Bentley Village
| | |
| --- | --- |
| Cathy Graves | July 21 |
| Angelina Rodriguez | September 12 |
Vi at Grayhawk
| | |
| --- | --- |
| Elvia Astorga | September 6 |
| Rosa Rendon | September 29 |
Vi at Lakeside Village
| | |
| --- | --- |
| Rolando Ferrer | September 6 |
| September 7 | September 15 |
TidePointe, a Vi Community
| | |
| --- | --- |
| Cassandra Stevenson | July 28 |
30 Years of Service
Vi at Bentley Village
35 Years of Service
Vi at Palo Alto
| | |
| --- | --- |
| Ubaldo Tostado | September 2 |
RESIDENTS' COMPLIMENTS AND ENCOURAGING SUPPORT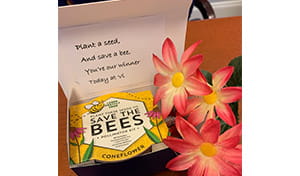 Since the onset of the pandemic, there has been an outpouring of appreciation for the tireless support Vi's employees have provided our residents. We are grateful for the hundreds of compliments and gestures of kindness from our residents. We are honored to share some excerpts from their many kind words of appreciation.

Accolades on the Menu at Vi at Silverstone

"The entire Dining Service staff has been wonderful during this unusual time. We order and try to remember to remind the staff that I have a need to eliminate all dairy and nuts! On occasion I have forgotten to make this request, but I have always had a call back from Bernie, Jordyn and others to ask about substitutions. I am very grateful! Occasionally I will assume that there will be none of my diet offenders in my order…my angels on your ordering staff have saved me! Thank you all."

"Today we ordered the Chicken Chopped Salad with the white balsamic and basil dressing. The salad was very good, but the dressing was FABULOUS! Please, please, please keep it on the menu! I think it was one of the BEST. Fresh flavor, not overpowering, not too piquant for me and also not cream-based! Simple and PERFECT! It is the best new salad dressing I have had in years! It did not overpower the delicate chicken or other ingredients, and it added that fresh basil summer flavor! We are so lucky to have you and your staff! Keep up the great work and creativity. And thank your department for always going the extra step!"

Grateful for the Team at Vi at Grayhawk

"We are beyond grateful that as we enter Week 18 of stay-safe-at-home measures, you and your terrific team work at 110% every day to keep us as safe, comfortable and well-fed as if it were Week One and no one had heard of COVID burnout. Please let all employees know how much we appreciate the 'cocoon' you create for us."

It Is Unanimous at Vi at Aventura: Excellent Food and Concise Delivery!

"I reached out to my nine Resident Relations Council members and they all had the highest approval rating with the excellent food preparation and the concise delivery of food during this crisis situation. My praises to you [Chef Christian], Monika and the entire staff. Thanks again!"

My Heroes – Vi at The Glen

"My heroes are ALL of the employees who are working at the Vi. Everything is working so smoothly because of you. We residents are lucky to have all of you no matter what department you are in. Thank you!"