What is Vi at Aventura?
---
Vi isn't just a place to live. It's a place to live life to the fullest. Our Life Plan Community, located just miles from both Miami and Fort Lauderdale, boasts beautiful accommodations, dedicated staff, elevated cuisine, and a vibrant community of friends and neighbors.
We're excited to now offer a limited number of rentals at our luxury community, allowing you to take advantage of many of the same hallmark amenities that Vi at Aventura is known for.
Renting at Vi means you can maintain a greater sense of flexibility as you look to your next life chapter. We welcome 12-month rental agreements, and seasonal rentals are also available.
What's included in the monthly fee?
---
While a luxury lifestyle begins with a well-appointed apartment, it extends far beyond your front door. We provide thoughtful touches and exceptional service at every turn so you can focus on enjoying life.
Your monthly fee includes weekly light housekeeping, complementary valet (no tipping, please!), a meal plan for elevated cuisine created by our internationally trained executive chef, robust lifestyle and fitness programming, access to our on-site wellness center, local shuttle service and scheduled transportation, and more. Plus, all your utilities are included.
Here, we believe that the extras should come standard — so explore the links below to learn more and see what your life could be like at Vi at Aventura!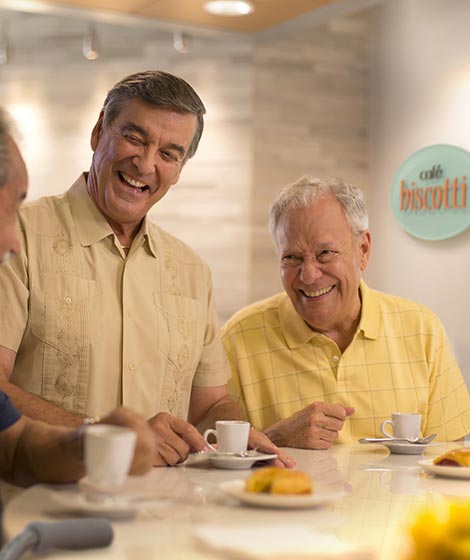 How is renting different than Vi's Life Plan option?
Life Plan Community residents at Vi enjoy retirement with our white-glove services and first-rate amenities with two options for future care rolled into their contract. But no matter how you join us, you can be confident that you've chosen a community that's dedicated to creating remarkable experiences for you every day.
Interested in learning more about our Life Plan option? Contact our sales team.