Introducing Luxus: Vi's signature private-label wine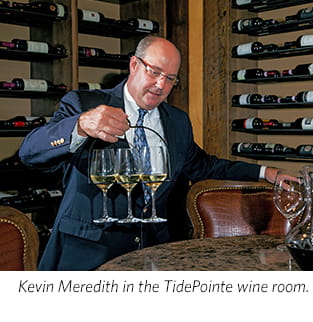 Wine has long been a staple in Vi's food and beverage program, says John Vogelmeier, Assistant Vice President of Food and Beverage at Vi. But until 2016, offering a wine that's unique to Vi was a new concept.
"We carried a house wine at the communities for several years," Vogelmeier said. "But it wasn't until a couple of years ago that the food and beverage team decided to create a wine of our own."
With residents in 10 communities across the United States, creating a wine that would resonate at each of the luxury senior living communities was no easy task. Over a period of nearly a year, Vi's food and beverage teams convened tasting groups and researched the likes and dislikes of members in each community to ensure a good fit.
"Quite a few Vi residents are wine connoisseurs, and some even have their own cellars," Vogelmeier said. "We worked with our local food and beverage team to find out what residents would really enjoy on a regular basis."
To create the wine, Vi turned to The Thornhill Companies and its Turn Key Wine Brands, based in the Central Coast wine region of California. Vi's food and beverage team visited the winery, touring the facilities and seeing how the wine was made.
Thornhill Companies project manager Jeff Chaney, who acts as a liaison between clients and the winemaking team, served as Vi's shepherd throughout the development of the Vi wines.
"We always want to make sure we capture our clients' desires: everything from flavor profiles, artwork, even the shape and glass color of the bottle," Chaney said. "Those are the non-negotiables during our process; we can't miss those."
With more than 40 years in the wine business, Chaney and The Thornhill Companies felt confident they could help the team at Vi execute a stellar final blend.
"We have a very talented team of palates here at The Thornhill Companies: sommeliers, four talented Winemakers, and many other veterans of the wine industry, not to mention an incredible vineyard staff," Chaney said. "Having all these different brains here that think about wine in different ways, it's like the Knights of the Round Table."
The result of that meeting of minds: a chardonnay and a merlot, each with a label featuring watercolor art by Vi at La Jolla Village resident Gerald Bischoff. And as for naming the wine, the team looked to Vi staffers for suggestions. The final verdict: Luxus, which means "luxury" in Latin.
Since the wine officially launched in early 2016, Vogelmeier says it has been well received by Vi's residents since. "Our wine really represents all the characteristics we chose throughout the research process," Vogelmeier said.
Kevin Meredith, director of dining service at TidePointe, a Vi Community, is a passionate wine expert, and supporter of Luxus. Since the introduction of the wines to TidePointe in January, he's garnered a lot of interest from residents at the Hilton Head retirement community.
"I'm a big proponent of happiness at our property," Meredith said. "And having a wine that's all our own — one that brings the exceptional into the everyday — is just another way to create that happiness."