TidePointe, a Vi Community, sponsors at RBC Heritage — and gives back to the Hilton Head community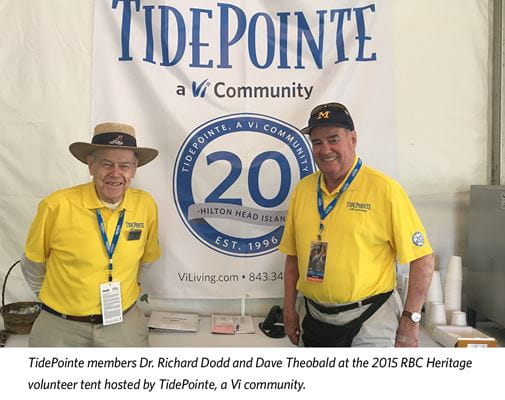 On April 17, 2016, South African Branden Grace won his first-ever PGA Tour title at the RBC Heritage, becoming the latest in a long line of golfers to earn the privilege of wearing the tournament's signature plaid jacket.
Tidepointe, a Vi Community, got a front-row seat for his big win; for the sixth year in a row, the community was the official volunteer sponsor for the event.
Dene Wilmot, sales director, says TidePointe's sponsorship offers a unique opportunity to showcase its luxury lifestyle to those volunteering at the event — many of whom are local retirees who may be looking for a new home.
"We love to connect with the folks who volunteer," Wilmot said. "This is just another way for us to interact with our residents and prospects — and also it happens to be at one of the largest sporting events in South Carolina."
It takes a village
TidePointe provides volunteers a well-appointed tent where they can relax and put their feet up throughout their shifts. A team of 20 to 25 TidePointe resident members represent the community throughout the event, answering volunteers' questions about life at Vi and making sure the tent stays neat and stocked.
Dr. Richard Dodd, who has lived at TidePointe for two and a half years, is part of the community's volunteer team. He and his wife had a home on Hilton Head Island for 35 years before moving to TidePointe, and in addition to golfing on a regular basis himself, he also served as a volunteer course marshal during the RBC Heritage tournament for more than 15 years.
As a golf enthusiast and frequent community volunteer, Dodd says he loves the opportunity to experience the tournament in a different way and represent TidePointe.
"There's a continuous flow of people in the tent who come in to take a break — we give out brochures to volunteers, talk to them about TidePointe, and tell them about our experiences," Dodd said. "The volunteer tent is a perfect place to make contact with people who are interested in retirement."
And just like the RBC Heritage volunteers, TidePointe members who give their time at the event work in shifts (about three hours each day). "We get to go over and watch the tournament when we have a break," Dodd said. "This is just a fun event for each one of us that volunteer from TidePointe. It's very enjoyable."
An opportunity to give back
For everyone involved, the event is about more than long drives and skillful putts: At its heart, RBC Heritage is all about giving back to the community that hosts it each year.
"Since 1987, when the Heritage Classic Foundation was created, we've given more than $32 million to a lot of different groups," said Angela McSwain, marketing and communications director for the Heritage Classic Foundation, RBC Heritage's general tournament sponsor, noting that none of those donations would be possible if the event weren't staffed largely by volunteers.
"TidePointe, a Vi Community, is a very important sponsorship to us," said McSwain. "We wouldn't be able to do the great things we do in the community without these volunteers!"
The visibility gained by being the RBC Heritage tournament's volunteer sponsor helps TidePointe attract potential new members. But strengthening ties to the tightly knit Hilton Head community and deserving nonprofit organizations is the payoff that keeps TidePointe coming back year after year as a sponsor.
"It's a trickle-down effect — as one of the sponsors, we contribute to the greater picture," Wilmot said. "It's well worth it to do our part in saying thank you to these volunteers!"