Celebrating 20 years at TidePointe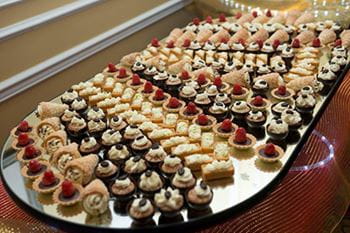 In October 2016, Hurricane Matthew swept through Hilton Head Island, bringing with it dangerous winds and rain that forced the island's residents — including the more than 250 members and staff of TidePointe, a Vi community — to evacuate.
During the mandatory evacuation, residents spent eight days in a hotel in Augusta, Ga. But according to lifestyle director Diane Kastler, residents made the best of a bad situation and tried to live life as normally as possible in their home away from home.
"We had a lot of fun activities planned to keep us all occupied," Kastler said. "I think we handled it all very well — and the staff learned that we can work together to manage things that aren't part of our everyday routine. Plus, the residents were able to meet and learn about their fellow neighbors, so we all had opportunities to learn and grow!"
Before evacuating the island on Oct. 5, TidePointe staff were in the final stages of planning an October 21st celebration for the community's 20-year anniversary — and they weren't about to let the weather put a damper on the festivities. According to TidePointe Sales Director Dene Wilmot, the residents returned to the island on Oct. 13 — just a week prior to the scheduled party date.
"We could have easily canceled it — with good reason — but the party really helped us move forward and look on the bright side," Wilmot said. "There was a lot of clean-up still being done around the community and the island, but we knew the event was something our members were looking forward to celebrating — and a great distraction from Matthew."
With more than 300 TidePointe members and employees in attendance, the black-tie-optional celebration featured a red-carpet entry with a photographer and plenty of food and drink for everyone.
Judy Whitcomb, Vi's Senior Vice President of Human Resources, was among those in attendance at the event.
"Our TidePointe team had only been back a week after an eight-day evacuation. I was so impressed that they were able to pull off such a spectacular event for TidePointe members," she said.
The highlight of the celebration, according to Wilmot, was Executive Director Thom Jones's toast to those who have been with the community from the beginning: four employees, including Wilmot, and eight residents.
One of those residents is Dr. Leon "Neel" Liverett, now 95, who bought his property at TidePointe "when there were still bulldozers on the property."
"The party itself — the hors-d'oeuvres, the music — couldn't have been nicer," said Liverett. "The camaraderie among people who live here has never changed in 20 years. I'm as close to my friends here as I am to anyone I've ever known."