Employee Spotlight: Meet Javier Sermeno - Living the American Dream
Meet Javier Sermeno - Living the American Dream
When Javier Sermeno came to Chicago from El Salvador in 1978, he lived in an attic apartment on the North Side with his mother, step-father, grandmother and three brothers. Adjusting to a new home, a language barrier and the cold Chicago winters wasn't easy, but he faced the challenge with a positive attitude; something he learned from his mother. "My mom told us, 'Always stay positive. You can do something with yourself if you put your mind and heart to it. You can accomplish the American dream.'"
From Dishwashing to Accounting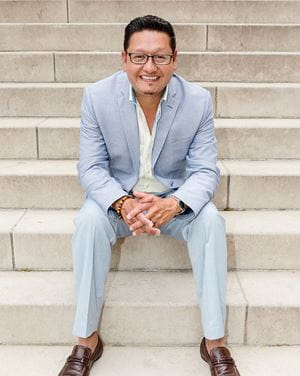 Javier's 27-year career with Vi embodies the work ethic and perseverance instilled in him by his mother. He began as a dishwasher at the Hyatt Regency in Chicago, but when the chef realized Javier spoke English, he was sent to work in the corporate office where he was a translator for the kitchen managers and staff. He was then promoted to a waiter in the executive dining room, and then to the mail room.
While working in the mailroom Javier was also attending Malcom X College to study accounting. Vi's human resources team took notice and offered him a position in the accounting department as a file clerk. That foot in the door allowed Javier to meet everyone in the office while he was delivering checks.
One day while making the rounds, an assistant vice president asked Javier if he'd like to join their team. He was hired as a junior accountant, and a year later was promoted to accounting coordinator for Classic Residence by Hyatt, the position he now holds with Vi. "I always knew I could succeed at whatever I put my mind to," said Sermeno.
Fostering a Family Atmosphere at Vi
Javier's friendly demeanor and willingness to help others made him a favorite amongst staff. "He is one of the most personable people I have ever met," said Assistant Vice President of Financial Accounting, Jill Olson. "He has a great attitude and I have never seen him have a bad day." Javier credits his mother with giving him sage advice that he still follows to this day. "She used to tell me, 'Present yourself in a professional manner no matter what the situation, and if someone is having a bad day, smile and wish them well. That might change their attitude. And she was right, I have seen it!"
When asked why he has remained working for Vi all of these years, Javier credits Vi's family atmosphere. "At Vi we are all connected with each other. I never hear anyone say, 'that's not my job.' We help each other out. In that way we're not just co-workers, we are like a family."
His managers are quick to point out that Javier is a key contributor to that family-like feeling. "The best teams are made up of people who put shared goals and priorities above their own," said Vice President and Corporate Controller, Tom Muszynski. "Most of the time Javier does this without even realizing it. Every time he drops what he's doing to engage in helping someone else he's putting the company before himself. Doing that year after year really has a big impact on creating a collaborative culture."
His Family Comes Full Circle
While Vi has become Javier's second family, he remains close with his first, including his mother who now lives with him. "She sacrificed herself for me so I'm returning the favor," he said. "I thank my Mom every day for the life she has given me." Javier is also starting a family of his own. This year he became engaged to his girlfriend Sylvia. The couple plans to be married on Valentine's Day 2018 and honeymoon in Japan and Guam. "We both love to travel, see different cultures and learn about new things."
After 27 years with Vi, Javier still loves coming to work every day. "I love my job. There's not a day I wake up and think 'Ugh, I have to go to work.' I love what I do and I always try to keep moving ahead. I have a great life. I'm living the dream!"