Good to Know Newsletter, Issue No. 1
DOING THEIR PART, AND THEN SOME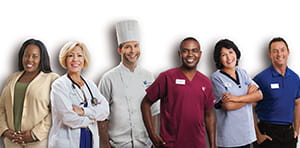 Although the ongoing pandemic has completely altered life as we know it, Vi communities are working tirelessly to carry out special coronavirus precautions and to make sure our residents know their well-being is our top priority. Each of our staff members is going above and beyond their job description to deliver care and services straight to our residents' doorsteps, making it easier for our residents to stay home and do their part to stay healthy and help limit the spread of the coronavirus.

Our properties are closed to all visitors except those deemed essential by the CDC. Extensive screening is being conducted on all employees and essential visitors as they enter our communities, including checks on temperature, symptoms, recent travel and any possible exposure to COVID-19. Both residents and employees are asked to wear face masks in common areas and observe 6-foot social distancing guidelines. In our skilled nursing venues, team members wear full PPE, which includes masks, eye protection, gowns and shoe coverings. And, to limit the number of people entering the building, certain duties that would normally be performed by workers from outside the community are now being performed by Vi employees. Our restaurants have been closed, but our culinary teams are providing the same experience our residents love through touchless meal deliveries. At most communities, grocery delivery and community pantries have also been added to ensure practical items are easily available to our residents without them having to go out and shop themselves.

During this pandemic, we all feel gratitude toward the heroes on the frontlines in the hospitals. At Vi, we feel a similar gratitude for our heroes, community staff— from nurses and caretakers to the folks at the front desks. We wouldn't be able to do this without them.
DELIVERING ALL-AROUND WELLNESS THROUGH KINDNESS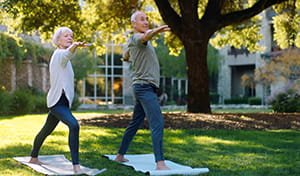 At Vi, our philosophy of Living Well extends beyond physical health, to mental and spiritual health as well. During the COVID-19 pandemic, all three have reached new levels of importance. Vi staff members are being proactive and getting creative when it comes to the experiences they provide, maximizing all-around wellness for residents each day.

Breakfast, lunch and dinner are safely delivered to resident homes and residents at most communities can choose from a selection of delivery time slots. Our talented culinary teams are continuing to create the delicious gourmet meals they're known for—but they're also serving little extras here and there as a fun surprise for residents. Some communities have been delivering treats like ice cream or popcorn throughout the week. The culinary team at Vi at Lakeside Village in Lantana, Florida, prepared special Passover plates and delivered them with prayer books for those who observe. TidePointe, a Vi Community, in Hilton Head, South Carolina, even held a socially distant wine tasting, where wines and light bites were delivered to residents who could then tune in to the in-house television channel for a video guide.

We're proud of the way Vi communities have stepped up to continue looking out for all-around wellness during this time. When nothing feels normal, a little smile can go a long way.
STAYING CONNECTED IN A TIME OF DISCONNECTION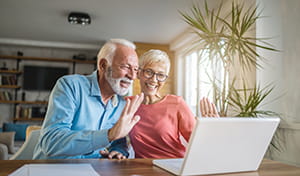 Fostering vibrant, socially enriched lifestyles is a calling card of Vi. Although in-person connection has been put on hold, the Lifestyle team at each of our communities is using digital technologies to support our residents' ways of life. From livestreamed classes to card games and happy hours, we're finding new ways to provide our residents with social opportunities and, just as importantly, a bit of normalcy in an abnormal time.
Many of the events and activities that typically fill our residents' calendars have found new life in digital formats. For example, video fitness classes ranging from yoga to cardio training give residents an opportunity to stay active from the comfort of their apartments. Zoom even allows them to stay connected to our instructors.

Our approach to wellness encompasses the mind, body and spirit, so social events and virtual diversions are also programmed. In some communities, employees and residents are taking entertainment into their own hands by staging musical performances. Vi at Silverstone's resident vocal group, The Vi Tones, have continued to practice virtually. And at Vi at Aventura, just north of Miami, our staff even helped one resident launch a YouTube culinary series, "Cooking with Bubbe," to the delight of fellow residents.

Our residents also have access to cultural opportunities outside the community, whether they're livestreamed theatrical performances or virtual museum tours. At Vi at La Jolla Village, for example, residents tune in to concerts from the Met Opera and acting classes at La Jolla Playhouse.

Digital parties and classes aren't a perfect replacement for being in the same room, but they allow our residents to stay connected with each other and with our staff. This period of isolation has made one thing abundantly clear about the people who call Vi home: They lead extraordinary lives, and nothing will get in the way of that.
OUR RESIDENTS SAY IT BEST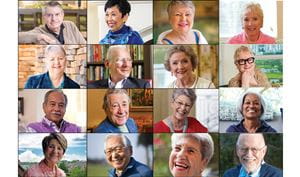 Across each Vi community, our residents have expressed immense gratitude toward our tireless, selfless staff. Their kind words raise our spirits every day, and we're so thankful for them. Here are some of the appreciative sentiments our residents have shared:

"What an absolutely incredible job you all have done during this unprecedented time. Not only have you continued to serve wonderful meals that are delivered to everyone's door, but the surprises we find occasionally, celebrating special occasions, is above and beyond!"

"Just want to add our name to the 'Well Done!' list. You and ALL your staff have been so responsive to the current situation. We are so very lucky to be here with you."

"Please convey my appreciation to all your staff for the special things they are doing for all of us during this stressful time. I feel so fortunate to be in a place that feels safe and where I feel not only that I am taken care of but also that I am provided with so much staff effort to help make my life as healthy, interesting, and comfortable as possible."

"The weekly fireside chats, including hearing from staff on what's happening especially behind the scenes has been reassuring to everyone. So thanks for the extra effort!"

"The commitment of all employees is beyond describable. Their positive attitude and smiles are medicine for us. The hard work of all to care for our physical and mental well-being is tremendous."