And the Envelope Please…
Celebrating Vi's Heart of Vi Award Winners
Vi's Service Recognition Program has been engaging employees and residents in recognizing exceptional performance. The recognition pillars of customer service, quality and efficiency, teamwork and leadership exemplify Vi's core values of respect, integrity, compassion and excellence. Over the last year, we have received hundreds of nominations from employees and residents alike.
---

Jesus Garcia, Lead Server

Jesus joined the Bentley Village team in 2005. He is a wonderful server in the Bentley Village Bistro and always assists with additional duties without hesitation. During a recent two-day photo shoot at the community, he went above and beyond to ensure all food and beverage needs were met, drove the crew across campus, helped set up and kept everyone hydrated. Jesus was readily available from the moment the photography crew arrived until they wrapped up. He deserves to be celebrated for his hard work.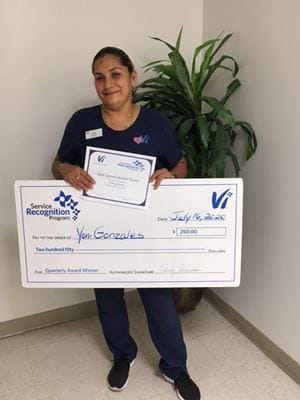 Yoni Gonzalez, Floor Technician

Yoni just celebrated her fourteen-year anniversary with Vi at Bentley Village. She is a valued member of the Housekeeping team. Recently, while riding in her golf cart, she noticed a runaway dog. The dog belonged to a resident who was not physically able to run after him. Without hesitation, Yoni parked the golf cart, successfully caught the dog, put him on a leash and returned him to the resident. The resident (and everyone else at the community) is forever grateful for Yoni's generosity and kindness.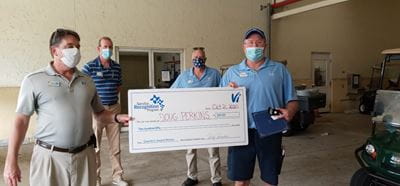 Doug Perkins, Maintenance Technician

Doug has been a valued member of the Bentley Village Maintenance team for eleven years. During a recent two-day photo shoot at the community, he went above and beyond the scope of his daily duties to ensure that all maintenance needs were met. Doug was readily available to troubleshoot and helped with electrical needs, logistics and many other tasks. He is a Vi hero!