---
There are some similarities in the basic services and amenities offered in these two types of communities, including:
Individual residences within a larger community of fellow seniors
On-site services like housekeeping and arranged transportation
A variety of lifestyle activities, such as fitness classes, book clubs, and group community outings
Meals prepared by professional chefs
But there are also some meaningful differences between a rental retirement community versus a "buy-in" senior living community that we'll explore below.
What is a rental senior living community?
On the surface, rental senior living communities come with the lowest entry cost of any senior living option. Residents simply sign a lease, usually pay some form of an up-front fee (such as a security deposit, community fee or membership fee), and then move in. Residents then pay rent in the form of a monthly fee that includes the leasing cost to occupy their apartment (in what is usually independent living). Residents of a rental senior living community might also have access to services and amenities as part of their monthly fee, but not always.
Rental retirement communities may be affiliated with one or more outside facilities that offer long-term care services—such as assisted living, memory support or skilled-nursing care—where those services are provided, off-site and as the need for care arises. Rental retirement communities normally do not include specialized care, long-term care or at-home care costs as part of their offered services and amenities. If they do offer higher level of care services, those costs aren't included in the monthly fees.
As a result, residents who move into a rental senior living community may have to make an additional move into assisted living or another care facility if they later find that they need assistance or care down the road. In those situations, they'll pay the current market rate for care services, and depending on the type of care services needed or the duration of stay at a care facility, may continue to pay the monthly fee to the rental community concurrently with the payments make to the care facility.
What is a buy-in senior living community?
Retirement communities that seniors "buy into" are also known as continuing care retirement communities (CCRCs) or Life Plan Communities.
And that's a Life Plan Community's biggest differentiator from a rental retirement community: CCRCs take an "all-in-one" approach to senior living so residents enjoy their retirement at a single campus or location, offered in one monthly fee. Life Plan Communities typically include independent living residences, as well as on-site long-term care benefits when or if a higher level of care services is needed—think assisted living, skilled nursing and memory care services.
There are three main types of CCRCs: Type A, or Inclusive; Type B, or Modified; and Type C, or Fee-For-Service. The most important thing to know about those types is that they affect what residents pay when they access higher levels of care. (Learn more about the finances of senior living.)
---
At face value, it may seem like rental retirement communities are the most affordable senior living option. After all, there's no up-front cost to pay beyond the security deposit, community fee or move-in fee, and the monthly fee is straightforward.
But what if you think longer term? Rental senior living communities can be an affordable option for your life now, but they don't account for the cost of care you may need in the future.
If you require assisted living, skilled nursing or memory care services while you're living in a rental retirement community, you have a couple of options.
Hiring an outside caregiving service
Hiring an outside caregiving service
Perhaps you undergo a surgery that requires some aftercare or rehabilitation from a licensed clinician.
For temporary needs like this, hiring an outside caregiver may be a smart move, provided the rental community allows you to receive these services. But keep in mind the cost of these à la carte services, which are often charged at an hourly rate for each caregiver who shows up to provide them to you.
Moving to a standalone facility
Moving to a standalone facility
Say you need more assistance with activities of daily living (ADLs), such as toileting, grooming or simply getting around on a regular basis. That may necessitate a move to another facility, such as a standalone assisted living facility or rehabilitation therapy center.
Obviously, relocating to a facility that offers the care you need comes with its own costs. From there, you'll pay significantly more for assisted living or nursing home services because you're getting more hands-on care there. What's more: if your care needs require around-the-clock clinical interventions or nursing supervision, your costs may increase.
Those costs fluctuate depending on a variety of factors, including location, the level of care you personally require, whether you are willing to live with an unrelated resident or patient, and finally, the then-current market rates for care services and accommodations in general.
If you're looking only at numbers on the page, the cost of living in a continuing care retirement community — what some people call buy-in communities — looks much higher.
Residents pay an up-front entrance fee with a predetermined return (or refund) option to the resident or the beneficiary of the resident's choosing, should they leave the community for any reason. Nonetheless, entrance fee can lead to some understandable up-front sticker shock.
In Inclusive or Type A CCRCs, the entrance fee accounts, in part, for residents' ability to move between independent living, assisted living, skilled nursing and memory care, all within the same campus. The monthly fee in a Type A community doesn't change much as a resident moves between independent living and assisted living, skilled nursing, or memory care. The monthly fee does increase slightly and somewhat predictably over time to account for cost of living, staff raises, and more.
Monthly fees in both CCRCs and rental communities vary depending on location, services, amenities and more. You may actually find that you're paying more in rental-property monthly fees over time.
---
The lifestyle you'll experience in a senior living community depends a lot on the individual location you choose, the turn-key nature of the services and amenities offered—and what you make of the experience once you get there.
Nearly all senior living communities offer basic services and amenities, including home maintenance, light housekeeping, arranged transportation and the like. But others elevate their offerings even further, offering a host of luxury services and amenities like 24-hour concierge or a salon.
You know what's important to you, and that's why it's so important to make in-person visits whenever possible to the retirement communities you're considering. After you've made your short list, schedule that visit. Check out various floor plans. Interact with the staff. Sit in on a couple of community activities. Stick around for a meal.
No article online can tell you which option is "better" or help you make a choice that is ultimately incredibly personal. Choose somewhere you feel a sense of belonging!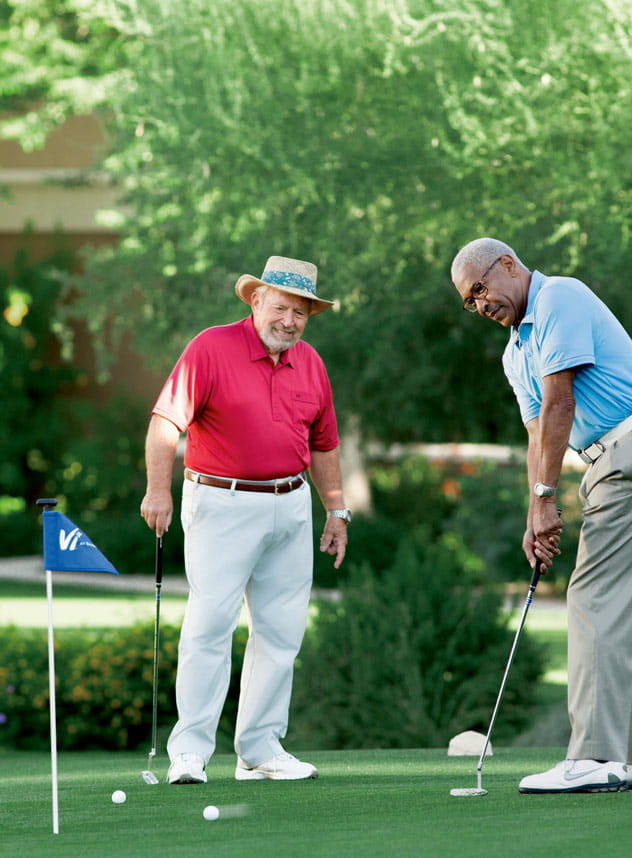 Vi's 10 luxury senior living communities across the United States are Life Plan Communities. Each Vi community has its own personality and a long list of services and amenities we offer our residents.
Our teams are always on hand to help you compare your options, answer questions about senior living costs, and fill you in on what life is like in a Vi community. We look forward to getting to know you — even if you don't ultimately move into one of our communities.
Glad to be connected!
There's a lot to consider when embarking on the next phase of retirement—and contacting us is a big step. (Well done!)

We'll be in touch soon to share expert insights and resident perspectives that we hope are helpful, and one of our team members will also be reaching out to answer any questions you may have.