---
Seniors can truly live their best lives in independent living, thanks to their built-in social connectivity as well as the opportunities they offer to remain active in mind, body and spirit.
---
Here's a look at some of the most common amenities you might find in independent living.
---
Housekeeping: Light housekeeping and laundry service for personal linens is often provided.
Transportation services: Independent living communities may provide residents with rides to doctor's appointments, the grocery store or other nearby errands.
Concierge: Residents and visitors alike will usually encounter a friendly, helpful face from the moment they walk through the front doors of a community.
Community security: Residents won't have to pay for a security system — most communities are staffed with alarms and security personnel to keep the facility safe 24 hours a day.
Home maintenance and repairs: Take the handyman off the speed dial. Scheduled home maintenance is generally on offer at no additional cost, as well as other home repairs help as needed.
Clinic/wellness center: Many communities offer in-house wellness centers or health clinics staffed by a registered nurse for drop-in visits to keep residents healthy between visits to their doctor.
---
Depending on the location and level of luxury an independent living community offers, residents can take advantage of a variety of amenities. These may include:
Golf and tennis courts
Swimming pool
Fitness and weights room
Group fitness instruction and personal training
Bocce courts
Beauty salon or spa
Libraries and reading rooms
Rooms that can be reserved for private entertaining
---
Dining is one of the most sought-after amenities available in independent living for seniors —for many, it's a well-deserved break from a lifetime of preparing meals for hungry families!
Every independent living community offers different dining options for their residents. Here's a look at dining options you may encounter:
Chef-prepared menus that offer a variety of food styles
Full restaurant-style service
Meals to accommodate dietary needs
Special meals for holidays and other occasions
Brunches and other meals for visiting families and loved ones
Private dining opportunities
Some communities may even offer meals to go or delivery directly to residents' apartments, usually for an additional fee.
Activities for fun and enrichment
Activities for fun and enrichment
---
Opportunities to connect with fellow older adults and stay active in mind, body and spirit are among the top benefits of living in a senior community — so most facilities offer a wide variety of activities and programming designed to offer both.
Here are just a few:
Golf or bocce tournaments
Book clubs and religious studies
Current events and political discussion groups
Language learning and practice
Workout classes, including water aerobics, Zumba, and functional fitness training
Wine tastings
Group outings to symphony or theater performances
Volunteer and community-service opportunities
Residents may even be invited to offer up their own suggestions for activities within the community.
Naturally, every independent living community offers different services and amenities for seniors, which are included in their monthly fees.
It may help to make a list in advance of services and amenities that are most important to you so you can ask about them when you visit.
Is a swimming pool or on-campus golf a must-have for your lifestyle?
Do you need dedicated parking?
How often do you need or want housekeeping, and to what extent?
---
It's a common myth that remaining at home as you age is the only way for seniors to "stay young."
And despite the word "independent" in their name, a move to independent living can bring up feelings of fear and even loss as older adults transition from a longtime home.
Navigating your own transition
If you're experiencing feelings of trepidation or sadness around a potential move, here are some things to consider:
You don't have to ignore your feelings: No matter how many benefits come with a move to independent living, this is still a huge transition for most older adults. You can feel all the feelings that come with downsizing, selling your family home, and leaving your neighborhood — even while looking forward to all the fun that lies ahead.
You can hang on to your independence: Independent living doesn't mean giving up the things you love about your life now. In fact, you'll have even more time to enjoy them.
You can stay in touch with friends: Yes, independent living communities offer built-in social networks, but many residents who move to communities near their previous homes still get together with friends, both at the community and out on the town.
You'll enjoy a low-maintenance lifestyle: The services and amenities senior independent living offer mean you'll spend less time taking care of the chores and business of home ownership and can focus more on having fun and enjoying your retirement. (You can even stress less about taking a vacation!)
The more you visit, the more comfortable you'll get: Consider scheduling more than one visit to the communities you're considering. You may even be able to grab lunch or try out a community activity while you're there.
This is your choice: Trust your gut as you're exploring independent living communities. If you spot a red flag or don't feel comfortable somewhere, there are plenty of other options out there. You'll find somewhere you feel at home.
You can make your new home even homier: Even as you downsize to accommodate a potentially smaller independent living residence, you can absolutely bring your favorite items with you to decorate and make your new home cozy and familiar. Some facilities even have in-house move coordinators who can help with the details of your move.
Helping a loved one navigate the transition
Do you have a loved one who's contemplating a move to independent living? Here are some additional tips to support them:
Start talking about their transition early: Nobody likes to feel rushed into a decision about the next stage of their retirement. Begin discussing your loved one's options and wishes — as well as the pros
Don't minimize their feelings: Similar to the above point, allow your loved one to feel their feelings. Grieving the potential loss of a life they know, no matter how positive their future lifestyle may be, is natural. Be empathetic and listen to their concerns.
Offer in-person support: If you live nearby, offer to accompany your loved one on visits to the communities they're considering. Help them remember the right questions to ask — or simply offer reassurance that you'll remain by their side.
Visit often — or not: Some new independent living residents will want regular visits from family to help them get acclimated to their new homes. Others may want some space to find their footing. Talk to your loved one about their needs and act accordingly.
---
Making the decision to move into an independent living community is just the first step. The next step, of course, is choosing where you'll actually call home.
The first step to choosing an independent living facility is figuring out what's most important to you. (And remember that what's on your must-have list today may change as you age further.)
Here are a few factors to consider as you begin exploring communities:
Activities: What opportunities does the community offer to pursue your hobbies and passions?
Food: Is it important to you to have access to a variety of restaurants and cuisine options?
Staff and fellow residents: The people you surround yourself with every day will make a huge difference in your life.
We've created a checklist to help you narrow down your options when choosing the right independent living community for you.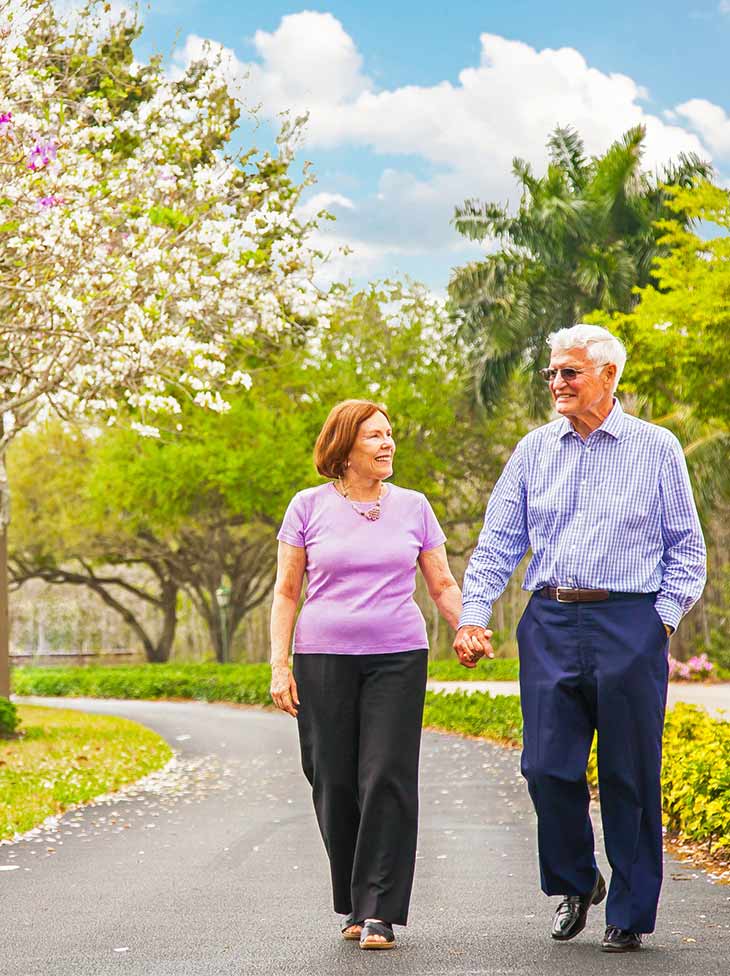 Independent living — and more
---
If you're considering independent living but also want a plan in place for future care, you might want to consider a Continuing Care Retirement Community (CCRC).
CCRCs offer access to all the benefits, services and amenities of independent living as well as access to on-site care, should you need it in the future. Care services fall along a continuum that includes assisted living, skilled nursing, and memory care — all for little to no increase in monthly fee.
Vi can help answer your questions about independent living — even if you don't ultimately choose to move into one of Vi's 10 CCRCs across the United States.
Glad to be connected!
There's a lot to consider when embarking on the next phase of retirement—and contacting us is a big step. (Well done!)

We'll be in touch soon to share expert insights and resident perspectives that we hope are helpful, and one of our team members will also be reaching out to answer any questions you may have.