These communities offer services and amenities in line with offerings in assisted living communities: residences with accessibility features, a community space for dining, light housekeeping and help with activities of daily living (ADLs).
But they also provide specialized care for residents with Alzheimer's or other forms of dementia, from customized care plans to living spaces specifically designed to keep them grounded in their everyday lives.
Creating individualized care plans with the input of the patient as well as their doctor and family members
Learning about the patient's life history and honoring it through daily interactions and activities
Building close, trusting relationships between caregivers and patients
Fostering a safe, supportive environment with a sense of day-to-day normalcy
This approach to dementia care in memory support facilities has many benefits, from wellness and safety advantages to social perks.
---
The first major benefit of memory support is care provided by highly skilled, specially trained caregivers.
Occupational therapy
Most memory support facilities offer occupational therapy to help seniors remain as independent as possible and adapt to memory loss and the ongoing changes to their cognitive capabilities.
Therapies might include:
Working to improve skills related to activities of daily living (ADLs), such as grooming and toileting
Building daily routines
Adapting a residence to increase accessibility, safety and functionality
Ongoing education around dementia's progression for patients and their loved ones
In a person-centered treatment approach, occupational therapy practices will vary based on the care plan created by the patient, their loved ones, a primary doctor and the community's care team.
Help with activities of daily living
Help with activities of daily living
Memory support communities offer around-the-clock support for residents who need help with activities of daily living, also known as ADLs:
Dressing
Grooming
Bathing
Toileting
Walking
Transferring (from bed to a chair, into a wheelchair or walker, etc.)
Feeding
Wandering and injury prevention
Wandering and injury prevention
Seniors with dementia can get lost or wander off. To that end, memory care facilities often have heightened security measures in place — including automatically locking doors and security cameras — to keep dementia patients from hurting themselves or others.
Some facilities color code their residential wings or take other steps to create more recognizable settings to help their residents get around.
In Vi care centers, for example, the entrance to each residence is decorated with a personalized memory box with photos and special items. This helps residents recognize their homes and create positive mental and emotional connections to their surroundings.
Feelings of loneliness and isolation are common throughout dementia patients' cognitive decline.
Residents eat in restaurant-style dining rooms with other residents whenever possible, and daily activities also take place in communal spaces.
Most facilities also offer rooms that can be used for private gatherings such as family reunions, birthday parties and celebratory occasions with loved ones who don't live in the community.
Specialized daily activities
On top of the medical support and assistance with ADLs that dementia patients receive in memory care, they also benefit from memory-centered activities designed to help them enjoy their lives even as their cognitive capabilities decline.
Specialized activities in memory care might include:
Compassionate, understanding care
Dementia patients who are aging in place at home may receive care from an in-home caregiver who visits on a schedule, or from a family member who may not be specially trained to provide for their needs. Understandably, family members are likely also coping with the emotional tax of providing this care.
In a dedicated memory support setting, providing compassionate, holistic care is job one for the facility's staff.
There are so many benefits to a person-centered approach to dementia care: Staff members understand the progression of dementia conditions and know how to respond in challenging situations. They also understand the emotional stressors that family members and loved ones deal with every day — and can offer support and resources accordingly.
---
Searching for and creating a list of potential memory care facilities is one thing: Start by tapping into reputable resources like AARP or the Alzheimer's Association. You can also ask around in local caregiver support groups or speak with your primary doctor.
It's another thing entirely to go through the process of actually choosing a memory care facility. First, consider checking out each memory support facility several times. Visit at different times throughout the day — staff tends to thin out in the evenings — and week — the residence may feel different on weekends.
Here are some factors to consider (and questions to ask) as you seek out the right memory care fit:
Resident well-being: What's the overall atmosphere of the facility? Do residents seem happy? Is there activity in the common areas?
Staff interactions: What's the caregiver-to-patient ratio? How are staff members interacting with residents? How do they respond to visitor questions?
Credentials: Have employees received dementia-specific education? Is there a medical director or resident nurse in a supervisory role?
Cleanliness: Are commons areas clean, tidy and fresh smelling?
Wayfinding: How easy and intuitive is it to get around? Are all areas clearly marked? Are there accessible outdoor areas?
Activities: How does the facility keep residents engaged on a daily basis? Are the activities personalized to the patient's care plan or interests?
Dining: What is the community like at meal time? Do residents eat together? Can the kitchen accommodate special dietary needs? How do staff encourage residents who are resistant to eating?
Health and wellness: Does the community offer wellness programming for residents at every activity level? Are these activities tailored to the patients' care plans?
If you can, sit in on some activities or ask to join residents for a meal in the dining room to experience some things for yourself.
And as always, trust your gut. If you sense red flags around any of the above topics, don't hesitate to move on. The right fit is out there.
Seniors who choose to relocate to a CCRC when they're still independent have the benefit of settling into and enjoying their new environment, maybe for years, before requiring additional care (if they ultimately need it).
Employees in a CCRC get to know all their residents through daily interactions, which means a network of staff is looking out for their health and well-being — including early signs of cognitive decline. If a resident is diagnosed with dementia and needs to move into the care center's memory support wing, the caregivers have already begun to build a trusting relationship with them. The better the caregivers know their patients, the easier it is to create effective, individualized care plans.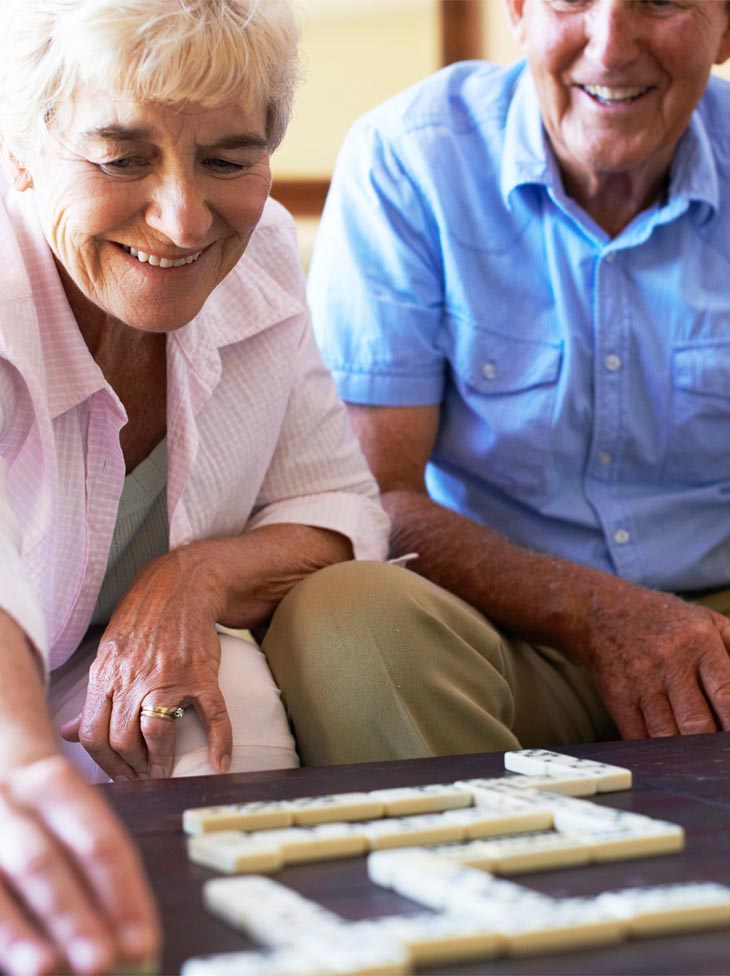 ---
The care centers in nine of Vi's 10 luxury CCRCs throughout the United States offer memory support services with a compassionate, person-centered approach to care.
Our team is on hand to talk about memory support and how it fits into our continuum of care — and answer any other questions you have about senior living.
Glad to be connected!
There's a lot to consider when embarking on the next phase of retirement—and contacting us is a big step. (Well done!)

We'll be in touch soon to share expert insights and resident perspectives that we hope are helpful, and one of our team members will also be reaching out to answer any questions you may have.